Full Denture Service
H.A.B. Dental offer a wide range of products within the area of prosthetics. Working in conjunction with you we can produce all your denture requirements on our premises using Australian accredited materials for your patients.  
We offer:
Full Acrylic Dentures in the high impact or standard options. As this needs to be custom-made to fit the patient we work closely with you to achieve this.
Immediate Dentures designed for insertion straight after the removal of natural teeth to enable the client to eat and go out with no embarrassment. This can be either complete or partial dentures.
Partial Dentures to fit in with the natural teeth and are available using acrylic with or without metal. The clasps for the partial dentures can be either metal or clear depending upon your client's requirements.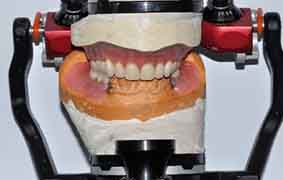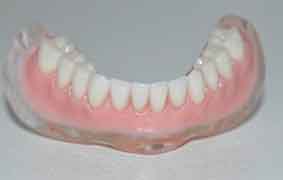 Flexible Dentures are more comfortable than the conventional metal-based dentures. The materials used in this product is ideal if your client has an allergy to metal.  
Implant Retained Overdentures are an option for those who struggle wearing removable dentures and want to retain a natural look by using an existing root or dental implant to insert a permanent denture. This can be done by producing a ball-retained or bar-retained apparatus.
Chrome Cobalt Dentures is an option for patients who require a partial denture. This appliance uses the Chrome Cobalt metal base with the acrylic teeth attached to the frame.
Precision Attachments are designed to minimise the load on abutment teeth as well as to support and stabilise overdentures
Repairs and Relines are completed promptly for all denture jobs sent to the laboratory. Please contact the office to book in your repairs and relines,